The American Institute of Aeronautics and Astronautics (AIAA) bestowed their Small Satellite Mission of the Year award to the Hyper-Angular Rainbow Polarimeter (HARP), Aug. 6, 2020, at the annual Small Satellite Conference in Logan, Utah.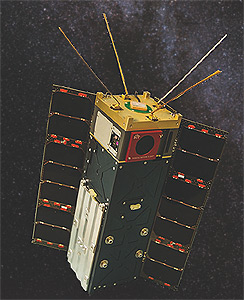 Designed and built by a team that includes engineers, physicists, and mathematicians from UMBC and Space Dynamics Laboratory (SDL) in Utah, the HARP satellite's sensors will collect new kinds of information about clouds and tiny particles in Earth's atmosphere, such as wildfire smoke, desert dust, and human-generated pollutants. With its innovative design, HARP is able to observe the particles from many angles at once to give scientists a more comprehensive view of what's going on in the atmosphere. The new data will equip scientists with information they need to better understand climate and air quality concerns.
---
Support comes full circle: When students become mentors.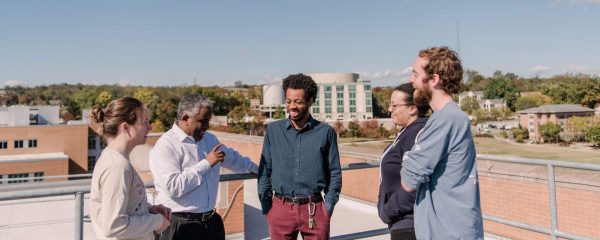 ---
Congratulations to our newest GRA graduate, Dr. Brian Carroll.
He just completed his Ph.D. in Atmospheric Physics.    Read more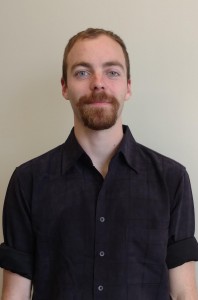 ---
The NASA GSFC Office of Communications and Scientific Visualization Studio presents "NASA Looks Back at 50 Years of Earth Day" to celebrate the 50th anniversary of the first Earth Day.
---
Earth Day Symposium 2020

This year's Earth Day Symposium is transitioning to a virtual format in response to the COVID-19 outbreak. To learn more about our new format visit our new page COVID 19 Virtual Format. We will continue to provide updates on our website as we continue this transition.
The Earth Day Symposium (EDS) is an annual event sponsored jointly by the UMBC Department of Physics and the Joint Center for Earth Systems Technology (JCET) that highlights local Earth science research from NASA, NOAA, university, and private sector affiliates. The event aims to strengthen collaboration between UMBC and JCET researchers, graduate students, and the local Earth science community.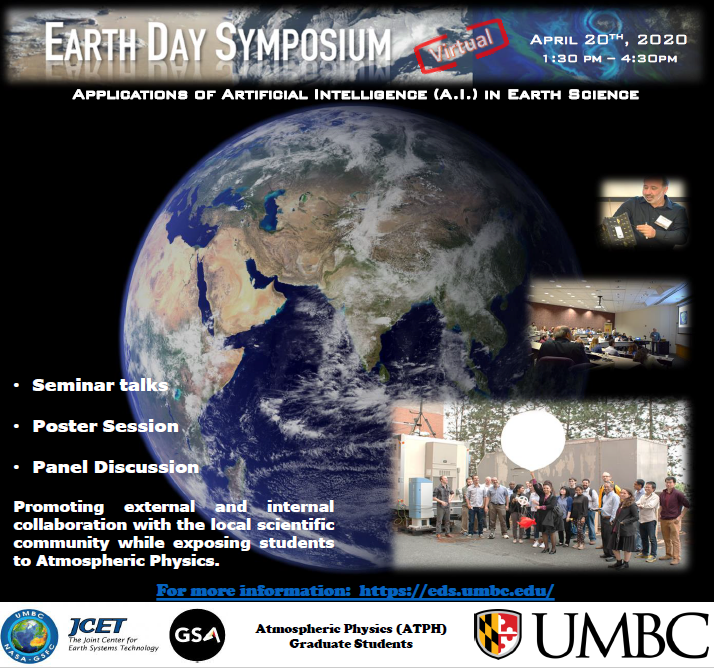 Click here for more information…
---
Ocean Science Surface Biology and Geology (SBG) NASA Hyperwall Talk
---
How a NASA ARSET Training Inspired Air Quality Innovation in India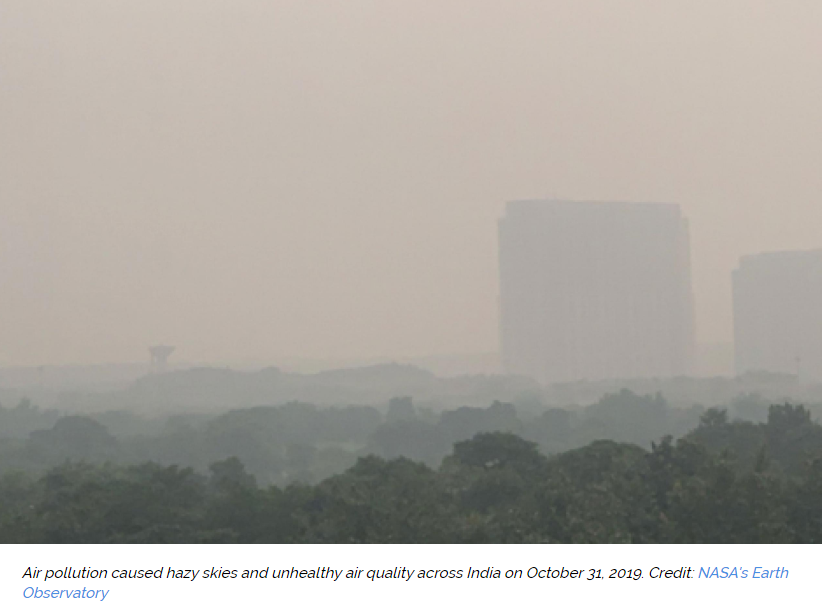 In late 2015, Amrit Sharma packed up his home in Minneapolis, Minnesota and made the big move to New Delhi, India. Shortly after his arrival, the reality of India's pollution situation came as a shock, "I discovered that millions of people die from air pollution," Sharma said, "and I was in the heart of a city where it is extremely hazardous almost every day of the year." Most of the pollution in New Delhi is caused by road dust and industry, but another major contributor is exhaust from all the cars and buses.  Sharma was not an air quality expert, but he knew that he had to do something to put a dent in this crisis. His solution was to found an organization called AirAirAir. Its objective is to make air quality data more understandable and easier to access for people who don't have a scientific background. One of his solutions was to set up a website that tracks air pollution with emojis.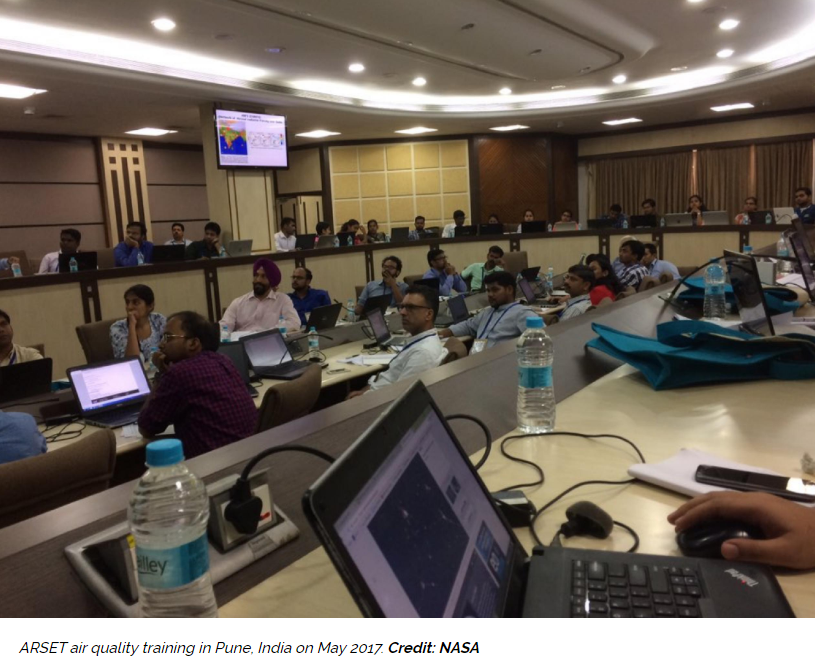 Click here for more information…
---
Congratulations to JCET GRA Student Jianyu (Kevin) Zheng For Being Selected To Receive Outstanding Student Presentation Award from AGU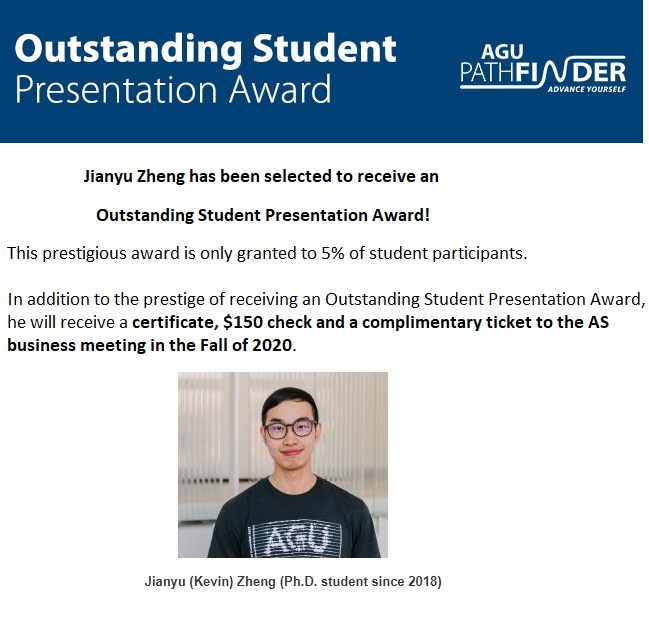 Click here for more information
---
JCET Seminar Series Spring 2020
Application of Artificial Intelligence (AI) in Earth Sciences
The JCET Department at UMBC, led by Dr. Zhibo Zhang, is excited to introduce it's Spring 2020 JCET seminar series on the Application of Artificial Intelligence (AI) in Earth Sciences.  Theseminar series looks to provide 1) an introductory overview of the basic AI and "big-data" techniques; 2) hand-on experiences with AI-based algorithms for satellite remote sensing; 3) an outlook of cutting-edge research of the applications of AI in Earth Sciences. There is a great teaching team in place, including three professors from the Department of Information Systems of UMBC, two JCET faculty, and several external scientists/researchers. This seminar series, scheduled on Tuesdays 11:15 AM ~12:15 PM, will be made available online to JCET faculty working at GSFC through WebEx. 
For UMBC graduate students

: this seminar series will be a one-credit PHYS650-04 Special Topic Course under my name.


For JCET faculty/staff

: WebEx information will be sent out before each seminar (we are testing the recording system and might be able to publish the recorded lecture as well).


For more information,
please visit the webpage for this course
:
JCET Seminar Series Spring 20202

---
NASA's Airborne Lunar Spectral Irradiance Mission, or air-LUSI, Takes Flight

The airborne Lunar Spectral Irradiance Instrument (air-LUSI) is flying aboard NASA's ER-2 airplane. The ER-2 is able to soar above clouds, about 70,000 feet above ground. The flights, which occur at night to avoid scattered light from the Sun, began Nov. 13 and will wrap up Nov. 17 from NASA's Armstrong Flight Research Center in Palmdale, California.
The NASA-funded instrument is "measuring how much sunlight is reflected by the Moon at various phases in order to accurately characterize it and expand how the Moon is used to calibrate Earth observing sensors", said Kevin Turpie, a professor at the University of Maryland, Baltimore County, leading the air-LUSI effort. Turpie and his team are funded by NASA's Earth Science Division and the National Institute of Standards and Technology (NIST).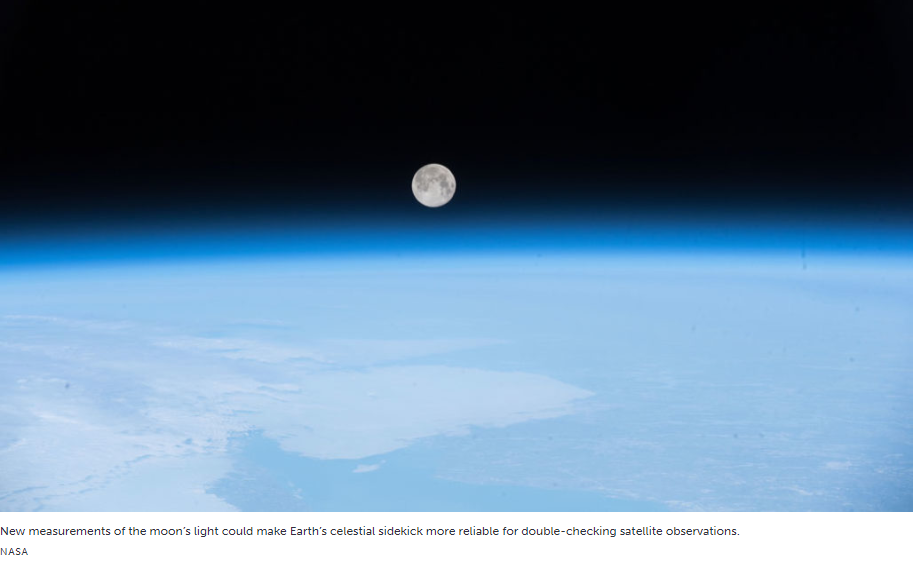 How the Moon helps Earth sensors
Earth-observing sensors, like the Visible Infrared Imaging Radiometric Suite (VIIRS) aboard the NASA/NOAA/DOD Suomi National Polar-orbiting Partnership satellite and the NOAA-20 meteorological satellite, collect images of cloud cover, land surface cover and ocean color. While these sensors are diligently doing their jobs, they also have to brace against high-energy particles and withstand ultraviolet light, which degrade their sensors over time.
To account for any changes in sensitivity, VIIRS and other satellite instruments calibrate their sensors by looking at a known reference and comparing how the most recent look compares to previous ones. If the sensor sees the reference differently than before, it knows it needs to recalibrate or adjust its sensitivity.
Currently, many instruments carry an opaque or white material, called a diffuser, that reflects sunlight and acts as a reference for sensor calibration. However, although the Sun provides a steady output, its harsh rays degrade the diffuser over time. The Moon, on the other hand, is an ideal diffuser since its reflectance of sunlight is stable and more similar to Earth's in brightness.
Scientists have long known about the Moon's potential. "Not long after the Apollo program, a group at the U.S. Geological Survey (USGS) developed a way of characterizing the Moon so that Earth observing satellites could use it for calibration," Turpie said.
The USGS Robotic Lunar Observatory (ROLO) in Flagstaff, Arizona, measured the Moon on a monthly basis from 1995 to 2003. Tom Stone, a scientist at USGS, along with Hugh Kieffer, a former scientist with USGS, developed a ROLO-based model that has and continues to be used to help calibrate Earth observing sensors in instruments, like SeaWiFS, which operated from 1997 to 2010 and measured ocean color to monitor phytoplankton. SeaWiFS looked at the Moon on a regular basis to note any changes in its instrument's sensitivity.
Although a lot of Earth observing mission calibration teams use ROLO, there can be large discrepancies in their lunar calibration data, Stone said. The hope is that air-LUSI's highly accurate measurements will characterize those discrepancies and determine if they're caused by internal biases in the ROLO model or something else. "We can't validate ROLO calibrations to any better than 5%," Stone said. "Air-LUSI can improve ROLO or determine what needs to be improved."
Air-LUSI's novel instruments are able to obtain highly accurate lunar spectral irradiance measurements that will have the lowest ever uncertainty (less than 1%), Turpie said, which establishes the Moon as an absolute calibration reference and helps remote sensing scientists determine if Earth observing sensors, like VIIRS, are recording actual changes on Earth or changes in their instruments.
Although Earth observing missions can look at the Moon at the same time and phase every month as a way to notice trends in their instruments' sensitivity, they haven't yet been able to use the Moon as an absolute calibration reference, Kurt Thome, a project scientist for Earth observing missions at NASA's Goddard Space Flight Center in Greenbelt, Maryland, said….Read more…
A Night in the life of Moon Measurers…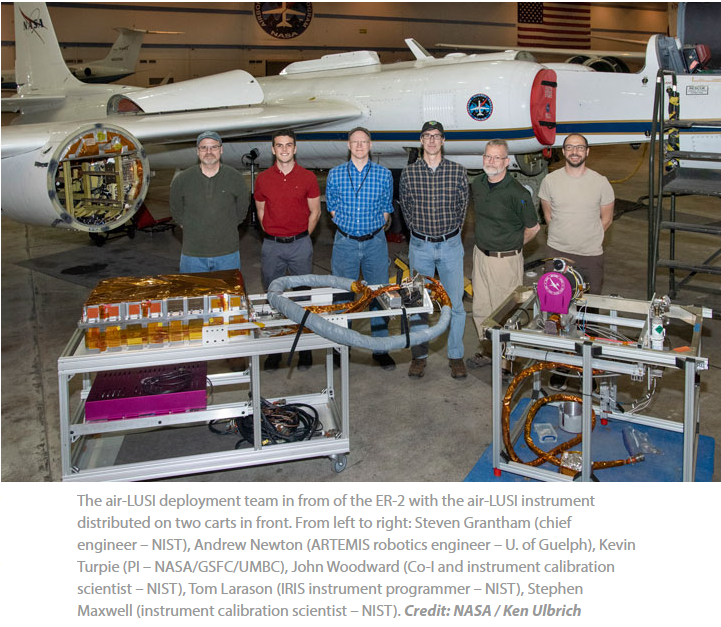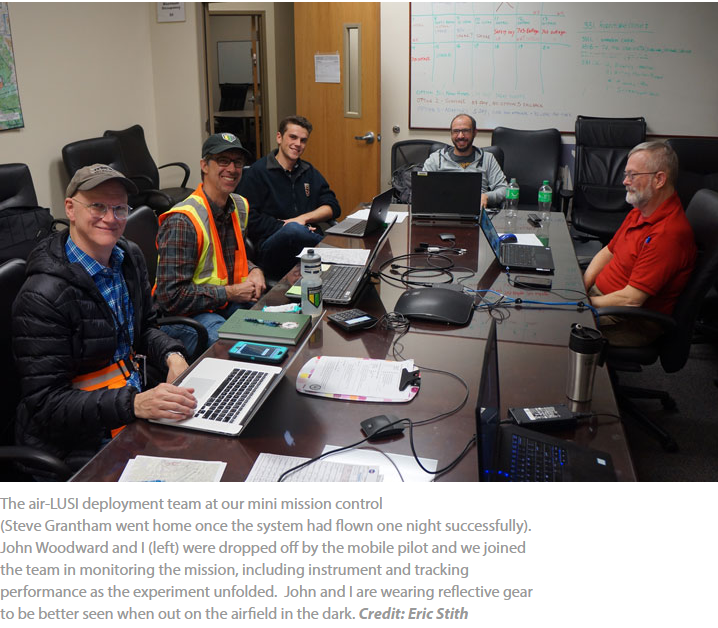 Read more on on air-LUSI and the NASA Airbourne Science Program…
---
NASA Science, Cargo Heads to Space Station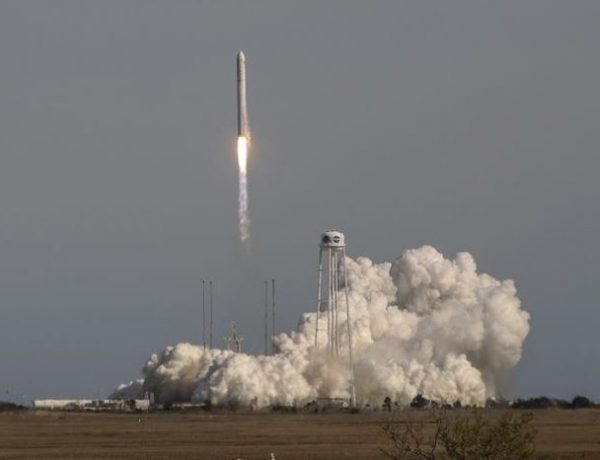 On the 19th anniversary of the arrival of the first crew to live aboard the International Space Station, a Northrop Grumman Cygnus resupply spacecraft is on its way to the orbiting outpost with almost 8,200 pounds of science investigations and cargo after launching at 9:59 a.m. EDT Saturday from NASA's Wallops Flight Facility in Virginia.
Click here for video of launch…
---
Tiny NASA Satellite Will Soon See 'Rainbows' In Clouds
Oct. 28, 2019
NASA's next attempt to map invisible specks in the atmosphere that impact climate change and air quality started from a window seat over the Pacific.
Vanderlei Martins, a professor at the University of Maryland Baltimore County, was flying across the Pacific Ocean a few years ago when he looked out the window and decided to photograph the bright white clouds floating by. On a whim, he took out a polarizer, similar to a sunglasses lens, and rotated it in front of his camera as he snapped photos. The result? "I saw rainbows in the clouds," Martins said.
This dynamic view of clouds sparked an idea for a tiny satellite that will launch on Nov. 2 from NASA's Wallops Flight Facility on Wallops Island, Virginia, to the International Space Station. From there it will be released into Earth orbit.
This NASA-funded CubeSat will collect vital information about clouds and aerosols, tiny particles in the atmosphere that can act as nuclei on which cloud droplets and ice particles form. These measurements will help us better understand how aerosol particles impact weather, climate and air quality.
The Hyper-Angular Rainbow Polarimeter (HARP) CubeSat is about the size of a hearty loaf of bread. It will be the first attempt to put a polarimeter, which measures the polarization of light, aboard a CubeSat. HARP could pave the way for future NASA missions involving a constellation of little satellites peering down at clouds and aerosols, Martins said. NASA's Earth Science Technology Office is funding HARP under the In-Space Validation of Earth Science Technologies program. Martin in the principal investigator of the mission.
"HARP, as the first multiangle wide field-of-view cloud-aerosol CubeSat mission, is a great example of how a creative and innovative team can advance new technologies for atmospheric science observations," said Charles Norton, special advisor for small spacecraft missions at NASA Headquarters in Washington.
---
Congratulations Dr. Erricos Pavlis On His Fellowship Appointment With The International Association of Geodesy (IAG)

---
JCET GRA Nicole Trenholm Trains Undergraduates in Summer 2019 Northwest Passage Project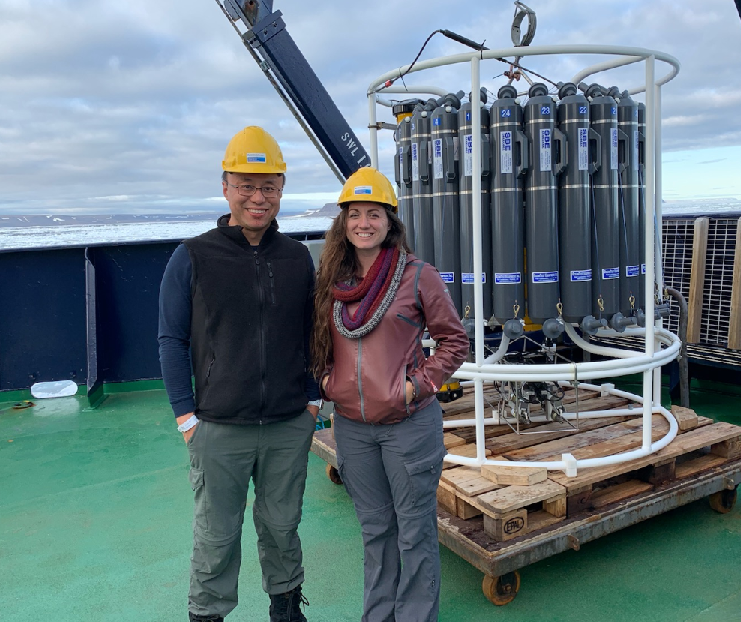 Last August, Nicole Trenholm, a UMBC Graduate Research Assistant in JCET, collected over 100 in situ chlorophyll a, pigments and eDNA genetic samples of sea surface waters in order to assess coastal productivity interpreted through satellite remote sensed ocean color chl a data between open navigable seas to ice laden regions of the Northwest Passage. Trenholm trained a team of undergraduate students to help with the sample acquisition onboard the NSF funded Northwest Passage Project 2019 cruise. Onboard the Icebreaker Oden Nicole assisted Dr. Donglai Gong of Virginia Institute of Marine Science in physical oceanographic measurements of the predominate transport and circulation of water masses across the Canadian Arctic Archipelago. They captured observations of Pacific water which moves across Barrow Strait, into Lancaster Sound to meet upwelled Atlantic Ocean originating boundary currents that inevitably outflows into Baffin Bay. They conducted water column profiles and water samples at intriguing locations and at discrete depths even where physical forces may aid in driving downstream plankton blooms that may be seen through ocean color variation. Trenholm assisted in the operation of aerial and underwater robotics to gain a better perspective of sea ice and algae conditions onboard Oden and while adrift on ice floes. "On previous research cruises, I always avoided the ice edge but pushing through it and being dropped off on an ice floe was an indescribable opportunity that changed my perspective on exploring sea ice", Trenholm states. Trenholm is encouraged to submit data to the NASA Ocean Ecology Branch in situ data repository of SeaBass. She plans to assess any matched conditions that may better associate ocean color data with physical forcing on validaited ecological effects such as along the glaciated coastline of the Devon Ice Cap and the bird reserve of Prince Leopold Island. While chlorophyll and pigments samples are processed by scietntists at the High-Performance Liquid Chromatography Lab at Goddard Space Flight Center, Trenholm will help Dr. Louis Plough process eDNA samples at University of Maryland Horn Point Laboratory this Fall. "For 2020-2021, I now prepare for a more strategic coastal sampling plan within the Canadaian Arctic Archipelago and W-NW Greenland in which I will consult with many JCET, GSFC Ocean Ecology and Cryosphere Branch scientists during the course of my JCET fellowship to ensure I will acquire the best observations that can help the interpretation of ocean color datasets now and into the future in this rapidly changing polar wilderness", Trenholm shares.
---
Qianqian Song Receives FINESST Fellowship From NASA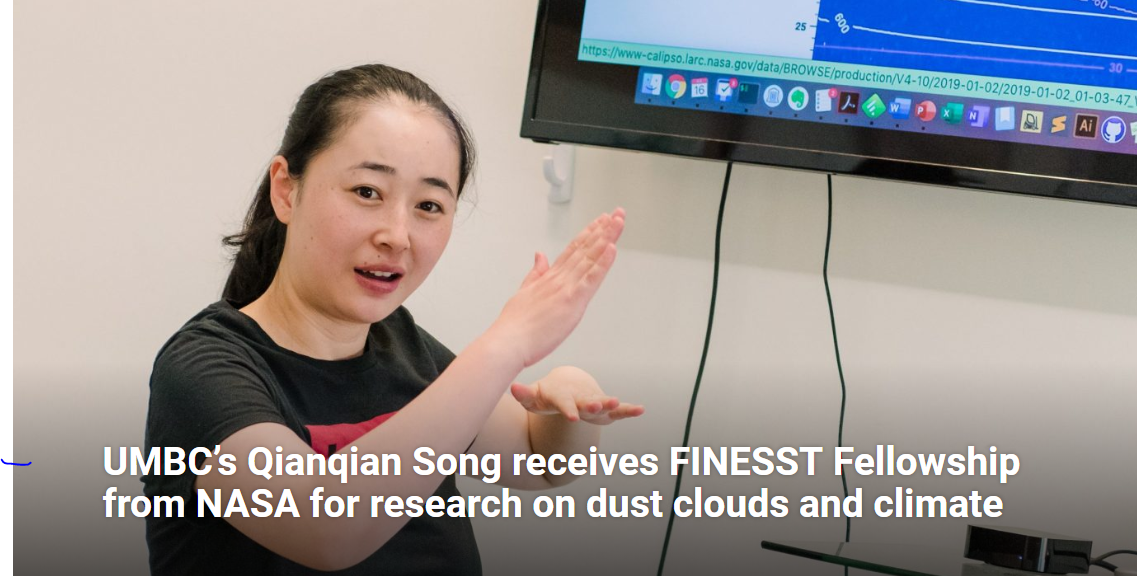 UMBC's Qianqian Song has just received the Future Investigators in NASA Earth and Space Science and Technology (FINESST) Fellowship⁠—one of just 59 such fellowships granted nationwide this year. The award provides $45,000 per year for three years for her to continue her studies at UMBC with Zhibo Zhang, associate professor of physics.
Song, a fourth-year Ph.D. candidate in atmospheric physics,is studying how dust above clouds affects the global climate. Large amounts of dust enter the atmosphere when strong winds blow across dry areas, such as the Sahara Desert.Previous research from the Zhang lab showed that this dust travels thousands of miles and provides critical nutrients to the Amazon rainforest. Other studies have suggested that the dust has an overall cooling effect on climate, by blocking short-wave radiation coming from the sun. "But they were neglecting the long-wave effect," says Song. This is where her innovative work comes in.
---
Arctic change on the 'Magic Planet' Co-lab Presentation
This summer's Stories on a Sphere UMBC Co-Lab Interdisciplinary Project Team developed a Science on a Sphere Presentation called On Thin Ice.
The undergraduate group was led by JCET Fellow Nicole Trenholm and a co-team lead and fellow Geographic Environmental Science Department Phd student Ben Daniels.  The team produced a spherical presentation offering a different look at the changes impressed upon the Arctic marine ecosystem. They developed a how-to for other spatial researchers to be able to contribute datasets and presentations to the NOAA Science on a Sphere Data Catalog and to give spherical presentations a try!  Here the team debuts their presentation at NOAA Headquarters in Silver Spring on Wednesday June 19th at Science on a Sphere. Trenholm will continue to produce spherical content and presentations with this cutting edge science communication medium in order to best relay her research with JCET.
---
Congratulations to JCET's Graduate Fellowship Award Co-Recipients for 2019-2020
The UMBC JCET Department is proud to announce it has co-recipients for its Graduate Fellowship Award for the 2019-20 academic year.  They are Ms. Pei Guo from Information Systems ("Multilayer Causality Network Modeling, Learning and Inference from Large-scale Global Spatiotemporal Climate Data," IS Advisor: Dr. Jianwu Wang), and  Ms. Nicole Trenholm from Geography ("Ocean-Glacier Interactions the Driver in Arctic Coastal Productivity," GES Advisors: Dr. Jeff Halverson & Dr. Kevin Turpie).  Congratulations to both Pei and Nicole and good luck in the coming year.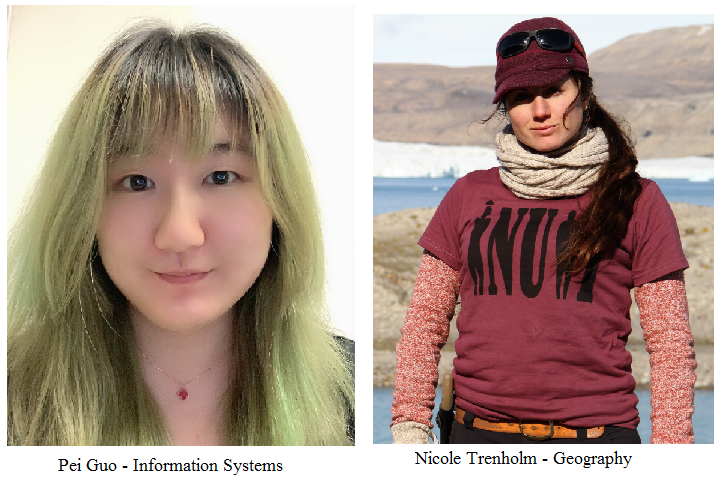 ---
Maryland 2019 Academy of Sciences Annual STEM Awards


---
Lorraine Remer Receives Research Faculty Excellence Award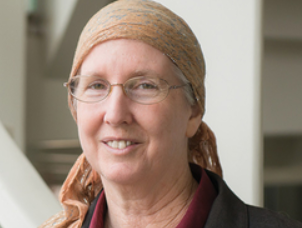 Dr. Lorraine Remer, Research Professor in UMBC's Joint Center for Earth Systems Technology (JCET) and Affiliate Professor in the Departments of Physics and Geography and Environmental Systems, has been selected as the 2019 recipient of the UMBC Research Faculty Excellence Award.  The award recognizes overall excellence in research, and where appropriate, significant contributions to teaching and service/leadership while at UMBC.
Click here for more information Lorraine Remer Award Winner
---
Congratulations Dr. Jae Lee!

Congratulations to Dr. Jae Lee (JCET/UMBC) who was presented with the Piers J. Sellers Award for Interdisciplinary Science from Director of Sciences and Exploration Directorate/GSFC, Mark Clampin, on Feb. 26, 2019 at the 12th Annual New Year's poster party.  Her poster "Is There a Time Lag between Total Solar Irradiance and Sunspot Area?" explores two fundamental quantities in Heliophysics and Earth Science: the solar magnetic field emergence and total solar energy input to Earth. To examine the relationship between the two, she showed SDO solar disc images, ground observations of Sunspot area, and three different satellite measured total solar irradiance data from SORCE, TCTE, and newly launched TSIS.
---

The Third Annual Earth Day Symposium is on April 26th, 2019 from 9am-4pm in Physics 401 at UMBC Main Campus
The Earth Day Symposium (EDS) is an annual event sponsored jointly by the UMBC Department of Physics and the Joint Center for Earth Systems Technology (JCET) that highlights local Earth science research from NASA, NOAA, university, and private sector affiliates. The event aims to strengthen collaboration between UMBC and JCET researchers, graduate students, and the local Earth science community.
Click here for more information 3rd Annual Earth Day Symposium
---
Iceberg Twice The Size of New York City Set to Break Away From Antarctica, Says Nasa
The iceberg would represent the largest break off since scientists first began monitoring the area
Clark MindockNew York @ClarkMindock
An iceberg twice the size of New York City is poised to break away from the Brunt Ice Shelf in Antarctica, sparking safety concerns for scientists in the area.  The iceberg would represent the largest break off there since scientists first began monitoring the area, in 1915.
In a release, Nasa says that a crack has been growing at a rate of about 2.5 miles (4km) per year since 2012, and that the chasm was dormant before that time. That northward growing crack could soon meet with another growing chasm, the so-called "Halloween crack" that was discovered in October of 2016 growing eastward form the McDonalds Ice Rumples.
Nasa scientist Chris Shuman told The Independent that the size of the iceberg — around 1,700 square kilometers, or about 656 square miles — would make it the fifth largest iceberg that is currently being tracked by the National Ice Centre in Suitland Maryland.
"What is driving this is the natural, long-term flow of glacial ice off of the margins of Antarctica so  that the advancing ice begins to float on the sea (in this case the Weddell Sea, forming the Brunt Ice Shelf)," Mr Shuman said. "Year-by-year, the ice moves farther offshore as it is supplied by the  glaciers inland until the forces of tides, currents, storms etc… begin to crack the floating ice".
Click here for the whole story Brunt Ice Shelf
---
Congratulations Valerie Casasanto
2018 Robert H. Goddard Honor Award Winner for Outreach with ICESat-2
Valerie Casasanto of the UMBC Joint Center for Earth Systems Technology (JCET) is one of the 2018 Robert H. Goddard Honor Award winners from code 600 for her work with the ICESat-2 Outreach Team.  Please be sure to congratulate Val for her hard work and dedication to the success of Goddard, UMBC and JCET.  Her professionalism is deeply appreciated.
---
TSIS-1 Team Receives Group Achievement Award From NASA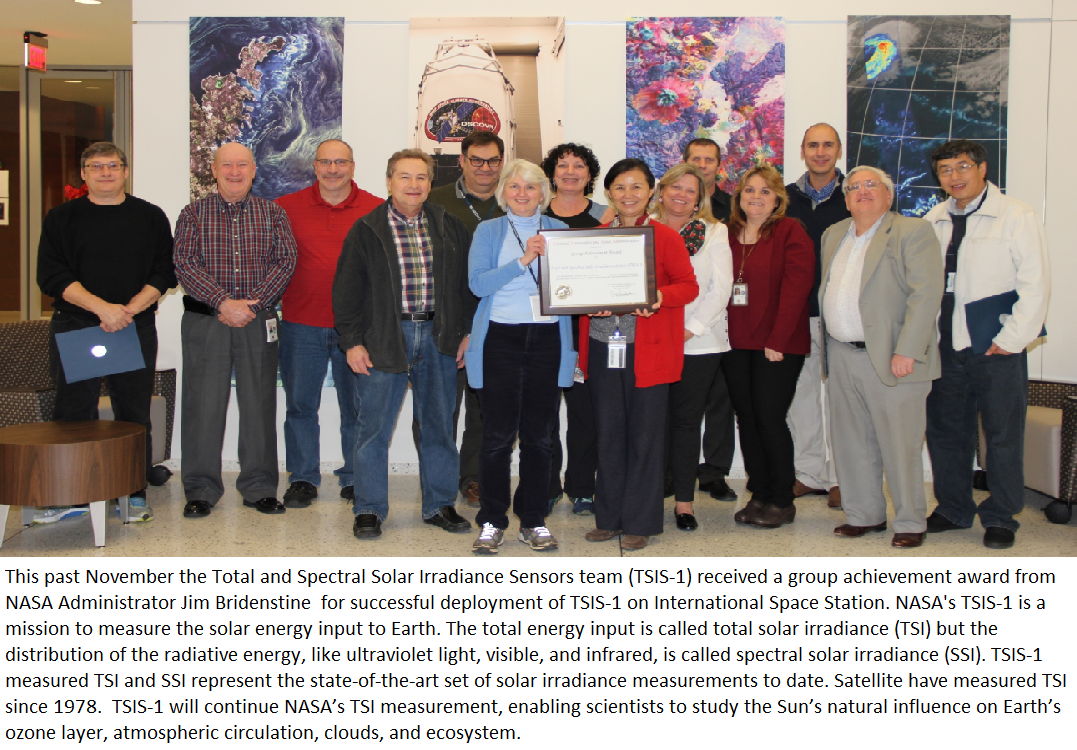 UMBC Among Top 150 U.S. Universities in Federal Research Funding
The National Science Foundation (NSF) recently released its latest Higher Education Research and Development (HERD) survey, including UMBC among the top 150 U.S. universities in federal research and development expenditures for fiscal year 2017. The annual HERD survey combines total funding from all federal agencies, including NSF and others, as well as research funding from non-federal and non-governmental sources.
UMBC is ranked #146 in federal funding for the 2017 fiscal year and #169 in total funding from all sources. The federal research investment figure includes funding sources such as the U.S. Department of Agriculture, Department of Defense, and Department of Health and Human Services (DHHS), among many others.
Partnering with NASA
The university is a strong national leader when it comes to NASA funding, where UMBC ranks #12 across all U.S. colleges and universities. This leadership also applies broadly to the overall category of research in the geosciences, atmospheric sciences, and ocean sciences, where UMBC ranks #28 nationwide.
The Center for Research and Exploration in Space Science and Technology (CRESST II) is one core research partnership UMBC maintains with NASA. UMBC and the University of Maryland, College Park, are leading partners in the consortium, which received a commitment of $87.5 million over five years from NASA's Goddard Space Flight Center beginning in 2017 (following a successful 10-year agreement that launched in 2006).
The partnership supports cutting edge research in high energy astrophysics, gravitational waves, and other areas. Jane Turner, professor of physics, directs the Center for Space and Science Technology (CSST), which is the UMBC arm of CRESST. She explains that this research collaboration also creates important teaching and learning opportunities that benefit faculty, graduate, and undergraduate students.
The Joint Center for Earth Systems Technology (JCET) is another particularly active and robust UMBC-NASA partnership. NASA renewed JCET in 2015 at a level of $46 million over five years, affirming its commitment to this ongoing, highly productive research collaboration.
"UMBC has a terrific relationship with NASA," says Susan Hoban, JCET's associate director. "The UMBC-Goddard JCET is in its third decade, conducting research that advances our understanding of the Earth's changing climate. NASA scientists, as well as UMBC faculty and students, benefit from this ongoing collaboration."
Reflecting and informing society
The arts, humanities, and social sciences at UMBC regularly receive funding from a range of federal sources including the DHHS, USDA, National Endowment for the Humanities (NEH), and National Endowment for the Arts (NEA). The latest HERD rankings include projects in a broad range of fields in these areas, such as education, the environment, health disparities, and design. For fiscal year 2017, UMBC ranked #36 in social science research expenditures from federal sources, above institutions such as Princeton University (#48) and Brown University (#52).
Chris Curran, assistant professor of public policy, received a two-year $620,000 National Institute of Justice grant to study the role of law enforcement officers in public schools. Curran, has shared, "Law enforcement have become an increasingly common presence in school settings, particularly after high profile events like the tragedy at Sandy Hook. Our work seeks to understand the role of these officers in promoting safety, managing student behavior, and facilitating relationships with students."
Also during the 2017 HERD survey period, Margaret Re, associate professor of visual arts, received a major Art Works grant from the NEA to develop the exhibition and catalog for "A Designed Life." The project explores how the U.S. government sponsored exhibits of modern American textiles, wallpapers, containers, and packaging in the 1950s to promote American culture abroad. It's now on display at UMBC's Center for Art, Design, and Visual Culture.
Computing, information, and engineering
UMBC also has very strong federal support for research in computing, information sciences, and engineering disciplines. In all three areas, UMBC ranked in the top 125 U.S. universities in funding received from federal sources.
In the 2017 HERD period, UMBC received an NSF Major Research Instrumentation award to expand the university's High Performance Computing Facility. Also in computing,Ting Zhu, assistant professor of computer science and electrical engineering, received a prestigious NSF CAREER Award for his work to develop "Internet of Things" technology.
Faculty also received numerous awards for innovative medical research. Erin Lavik, professor of chemical, biochemical, and environmental engineering, received funding from the National Eye Institute to develop a "living model of the human retina."
Liang Zhu, professor of mechanical engineering, was PI on an NSF grant to study how applying heat to drug-carrying nanoparticles can cause tumors to shrink. Her research with UMBC colleagues in mechanical engineering, biological science, and chemistry and biochemistry could lead to a more targeted, non-surgical approach to treating tumors in cancer patients. "Not every patient can have surgery," explained Zhu, "so this is an alternative treatment option."
Karl V. Steiner, UMBC's vice president for research, notes that these most recent research funding rankings highlight UMBC's strength across disciplines. "I could not be more proud of the efforts of our faculty and students as we build our research community together. The HERD Rankings are one measurement of our scholarly impact, and represent a key method of national comparison," he says.
Steiner continues, "Our top ranking is in NASA support, and the related research highlights areas of remarkable strength built over several decades. We are also thrilled about the strength of our social sciences research community and growing recognition for our important engineering and information sciences programs."
Click here for more information: UMBC Research In Top 150 Universities In Research Funding
=================================================================================
NASA's ICESat-2 Solvang Pre-launch Multimedia Presentation
With JCET's Valerie Casasanto
ICESat-2's Public Outreach Lead Photos courtesy of Len Wood, Santa Maria Times
ICESat2 Solvang Concert – September 15, 2018
=================================================================================
JCET All Hands Meeting Tomorrow At GSFC
DSCVR:  A 21-Year Journey
Please plan to attend the JCET All Hands meeting Tomorrow at GSFC.
The speaker will be Dr. Jay Herman
Wednesday, October 17, 2018 Building 33, Room H114 9:15AM – 10:30AM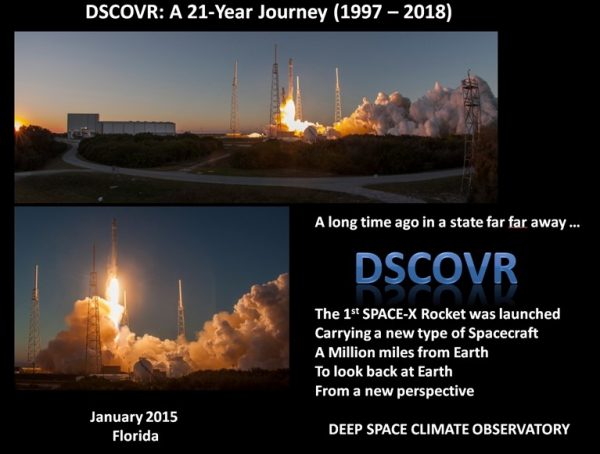 =================================================================================
Congratulations Ali Tokay and Yujie Wang
JCET's GSFC Award Winners
Congratulations Dr. Ali Tokay on receiving NASA's GSFC Code 610 Atmospheres Performance Award in the category: Outstanding Performance – Outreach or Mentoring for his sustained mentoring of students in research internships.
Congratulations Dr. Yujie Wang on receiving NASA's GSFC C
ode 610 Atmospheres Performance Award in the category Noteworthy Contribution Group Award for Development of code MAIAC and release of MODIS collection 6 operational data product MCD19.
=================================================================================
ICESat-2 Launch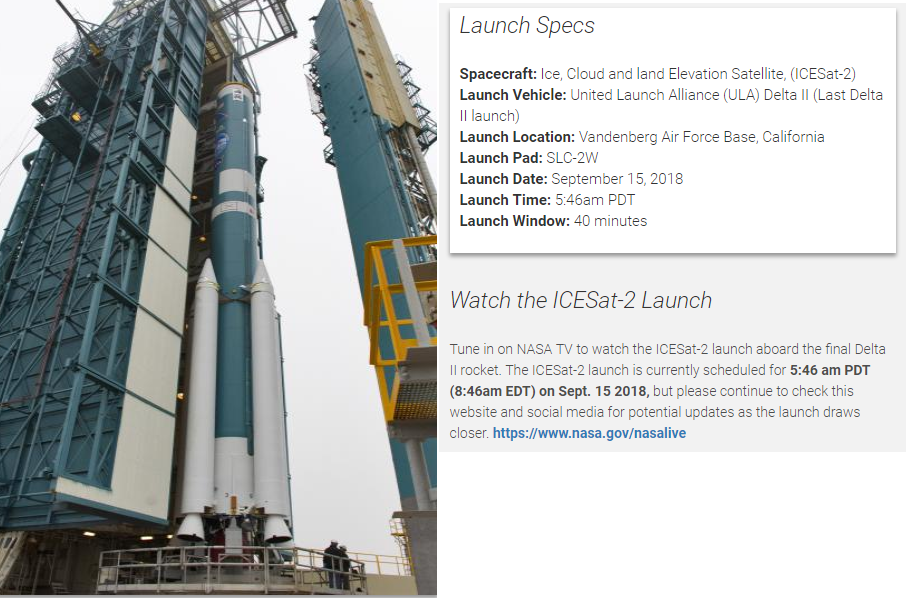 Coming to California for launch?
Check out ICESat-2's launch week activities near Vandenberg Air Force Base at https://icesat-2.gsfc.nasa.gov/launch-info to find out information on where to catch our hands-on exhibits, a teacher workshop both in person and on Facebook Live, and a live multimedia music and science performance Sept. 14 (RSVP here: https://bit.ly/2x8I51J).
Can't make it in person?
Host a launch party with materials at https://icesat-2.gsfc.nasa.gov/launch-info, and tune in to NASA TV at 8:10 a.m. ET/5:10 a.m. PT for the start of our launch broadcast!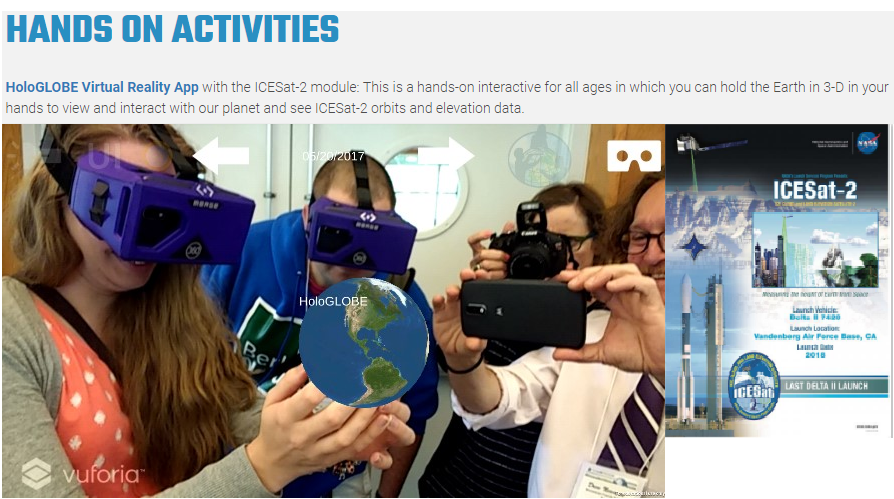 What is ICESat-2? => Click Here
PHOTON JUMP
=================================================================================
JCET GRA Seminars For Fall 2018
This semester's JCET Seminar features Jess Herpel from the Maryland Department of the Environment as the kick-off speaker, on Tuesday, September 11.  Please note the new time for the seminars this semester, 10 – 11 AM, in PHYS 401.
Click here for more information on the JCET GRA Seminars for Fall 2018:  JCET GRA Seminars
=================================================================================
UMBC, NASA, and Partners Mount Intensive Chesapeake Bay Air-Quality Study
SCIENCE & TECHNOLOGY AUGUST 21, 2018 10:26 AM SARAH HANSEN
This Summer, students and faculty from UMBC and three additional universities teamed up with NASA researchers and Maryland's Department of the Environment to collect huge amounts of data that will provide a snapshot of air quality in the Baltimore-Washington metropolitan area and over the Chesapeake Bay. The study measures factors ranging from wind speed to ozone concentration.
"In trying to understand air quality near the coast, it's critical to obtain measurements over the water and over the land simultaneously with as wide of a variety of instruments as possible," says John Sullivan, Ph.D. '15, atmospheric physics, and the lead NASA researcher on the project.
UMBC serves as the primary land-based site, and equipment placed on remote Hart Miller Island in the Bay collects data over water. "With two sites, you can begin to really answer questions pertaining to differences in air pollution and understand the mechanisms driving these differences," Sullivan explains.
Ozone in the forecast
This summer's work is an extension of the Ozone Water-Land Environmental Transition Study (OWLETS), dubbed OWLETS-2, and it is particularly focused on tracking the presence of ozone in coastal cities. Ozone in the upper atmosphere helps maintain Earth's temperature and absorbs harmful UV rays.
However, near ground level, breathing in ozone causes inflammation in the respiratory system, which can be dangerous for young children, the elderly, and those with asthma or other respiratory conditions. Plants also take up ozone, which can reduce crop yields.
Chemical reactions between sunlight and emissions from vehicles and industry generate smog-like ozone episodes, so one would expect the highest concentrations at midday, when the sun is at its brightest. However, wind over the Bay changes that.
"The Bay breeze is like a wall that doesn't allow normal west to east airflow to happen," explains Ruben Delgado, assistant professor at the Joint Center for Earth Systems Technology (a UMBC-NASA partnership) and the lead UMBC OWLETS-2 researcher. That means the midday ozone heading out to sea comes back in during the late afternoon, causing a spike just as local residents are heading home from work and school. Other factors, such as smoke blowing over the city from wildfires in the West, can also have a real impact.
Better understanding how these issues influence the presence of ozone in Baltimore can help improve air quality forecasts and protect sensitive populations from ozone's ill effects. "The National Weather Service is interested in this kind of data, because it allows them to push their models to a new frontier," Delgado explains.
Students step up
Working with Delgado are students from UMBC, Howard University, City University of New York, and Hampton University. The students and their home-institution faculty mentors are all members of the NOAA-funded Center for Earth System Sciences and Remote Sensing Technologies and Center for Atmospheric Sciences and Meteorology.
Delgado finds mentoring these emerging researchers to be both personally rewarding and essential to the success of the project. "My favorite part of this project is giving the students hands-on experience," Delgado says. "They get to contribute to the process from start to finish."
Kat Ball '21, chemical engineering, is one of those student researchers, and her experience has been transformative. "I feel so fortunate to have had the opportunity to participate in meaningful scientific research so early on in my academic career," she shares. "I've only just completed my freshman year, and will be one of the authors on the publications that result from all the data we received, which is something I thought I would only be dreaming about for quite some time."
Ball learned that field and lab research differ in important ways. "Not everything is easy to deal with when you're miles away from an actual lab where you have all of the necessary parts, chemicals, and even just clean water that you need to deal with problems that arise," she says.
Working with much more experienced team members, Ball was intimidated at first, but soon felt at home on Hart Miller Island. "Hearing from people with such impressive qualifications that your input on the situation truly matters expanded the confidence I had in myself as a researcher," she shares.
Read more here:  Chesapeake Bay Air-Quality Study
=================================================================================
In-Situ and Remote Sensing Measurements of Precipitation Course in Brazil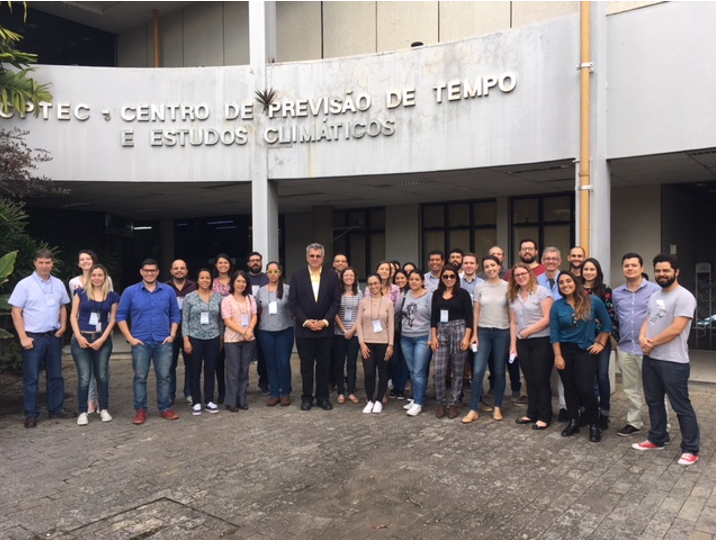 Ali Tokay (JCET/UMBC, Code 612.0) presented a course on In-Situ and Remote Sensing Measurements of Precipitation at the Center for Weather Forecasting and Climate Studies (CPTEC), Cachoeira Paulista, Brazil during August 6-9, 2018.  The course included wide range of topics including fundamentals of raindrop size distribution and rain parameters, ground-based precipitation measurements by rain gauges, disdrometers, and vertically pointing and scanning radars, global and regional precipitation products, space-borne precipitation measurements focusing on Global Precipitation Measurement sensors and algorithms.   The course has drawn 40 registered participants from about 15 different institutes across Brazil.
=================================================================================
Ocean Research Project Vision Sets Sail To Help Save Oceans
Matt Rutherford and UMBC Graduate Student Nicole Trenholm
Capital Gazette Article by:
pfurgurson@capgaznews.com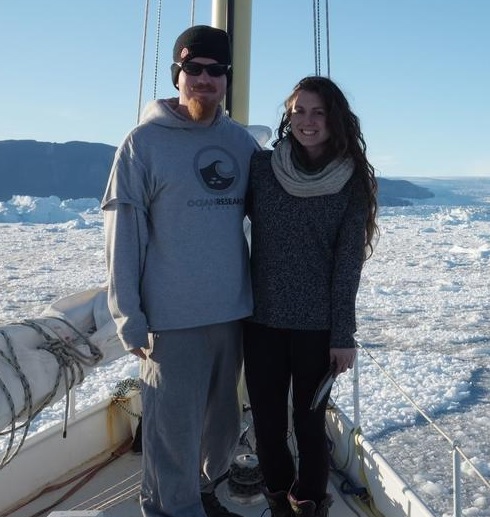 Matt Rutherford and Nicole Trenholm weren't going to let bad news about a grant for this year's arctic marine expedition stop them. So they hitched a ride. Friends with boats, right?  "The deal is they will take us into Greenland waters for our research in exchange for me helping them navigate the toughest sections of the Northwest Passage," Rutherford said. He met the owners of the boat while delivering a boat from Panama to San Diego a few years back.  The couple, who make up the Ocean Research Project using the small platform of a sailboat to perform marine research delving into man's effect on the world's oceans, was determined to get back into the Arctic for follow up research from their 2016 mission to northern Greenland.  And they were buoyed after co-publishing a paper with NASA scientists and the Oceans Melting Greenland (OMG) project, published by Oceanography magazine in June, based on their research into ocean temperatures affecting Greenland glacier melt.  And further boosted by the donation of a 65-foot steel-hulled Bruce Roberts sailboat to their cause. It needs some sprucing up, but should prove to be a vessel for the long haul.  They took off from their home base in Annapolis July 23, flying to Reykjavik, Iceland, then to Greenland.  The scientist half of the operation is Trenholm while Rutherford, famous for his 2012 single-handed nonstop voyage around the Americas — the first to ever accomplish the sailing feat — is the captain and spark plug.  Trenholm, who also has a blog and teaching arrangement with Anne Arundel County Public Schools STEM program, posted some details after they made it to Aasiaat, Greenland, a small village about a third of the way up the icy coast.  They boarded Toboggan, the boat they hitched a ride on, and took off up Disko Bay to record water temperatures approaching Jakobshavn Glacier, known to calf off chunks of ice the size of New York City.  "With our CTD instrument, which measures conductivity, temperature and depth, we indeed found that warm water," Trenholm wrote.  From there they moved north to Upernavik to check ice charts and gear up to cross Baffin Bay into the Northwest Passage, a three-day sail.  By Friday night they were just off Devon Island, the largest uninhabited island on earth, at the eastern end of the passage.
They plan to conduct more research.
Read more at Ocean Research Project Vision To Save Oceans
=================================================================================
 The NASA Applied Remote Sensing Training Program (ARSET)

The NASA Applied Remote Sensing Training (ARSET) program offers satellite remote sensing training that builds the skills to integrate NASA Earth Science data into an agency's decision-making activities. Training sessions are offered in many areas of remote sensing, including air quality, climate, disaster relief, health, land, and water resources. These trainings, offered both online and in person, have a world wide reach of over 13,000 participants and more than 3, 600 organizations. Managed by Ana Prados , the ARSET program team consists of Training Coordinator, Brock Blevins, Technical Writer and Editor, Elizabeth Hook Program Evaluator, Annelise Carleton-Hug and Project Support, Marines Martins.   There are many specialty leads and instructors including Melanie Follette-Cook, Pawan Gupta, Amber Jean McCullum, Amita Mehta, Erika Podest, and Cynthia Schmidt.
The photo above is from an in-person training last week July 10-12, "Satellite Remote Sensing of Dust, Fires, Smoke, and Air Quality" conducted by Pawan Gupta and Melanie Follette-Cook.  With assistance from Elizabeth Hook, Brock Blevins, and Selwyn Hudson-Odoi.  This training was coordinated with Washington State University who hosted the training in partnership with the Environmental Protection Agency (EPA) Region 10, and the US Forest Service Pacific Northwest Research Station. Over the course of three days, 39 participants from 25 organizations attended the training.
To Learn more visit:  NASA Applied Remote Sensing (ARSET)
=================================================================================
 Air Quality Study Over Chesapeake Bay Seeks To Understand Pollution
Article by Liz Bowie – Contact Reporter for Baltimore Sun
The sky above Hart-Miller Island became a busy laboratory for several weeks this summer as researchers launched balloons, drones and planes to better understand the complex swirl of air pollution over the Chesapeake Bay.  State and federal agencies initiated a research study aimed at providing more detailed data on how and why the Chesapeake Bay seems to act as a magnet for ozone pollution, amplifying the smog before it is then blown back over land.  "The study is an exciting example of cutting-edge research on the interface between land and water," said Maryland Environment Secretary Ben Grumbles.  The study attempts to understand in a three-dimensional way what happens to the emissions of power plants, cars and other pollutants once they gather over the Chesapeake Bay. The results could help Maryland make the case for forcing sources of air pollution in states upwind to better control their emissions.  Maryland officials blame air pollution from upwind states for more than two-thirds of the smog that forms over the Baltimore and Washington regions. On hot summer days, the sunlight and heat trigger chemical reactions between pollutants and other compounds in the air, multiplying what is known as ground-level ozone.  Ozone is a form of oxygen found naturally in the upper atmosphere that protects the Earth from ultraviolet radiation, but ground-level ozone is a key ingredient in smog and can cause or aggravate breathing or heart problems in humans.  Already this year there have been eight days when Baltimore's air quality exceeded U.S. Environmental Protection Agency standards.  Ozone is created by the chemical reactions between pollutants known as nitrogen oxides and volatile organic compounds. Nitrogen oxides come from the combustion of fossil fuels in cars and power plants. The nitrogen often falls out of the air as ozone is created.  About a third of the bay's nitrogen pollution falls from the air onto the land and water, said Ariel Solaski, a staff litigation attorney at the Chesapeake Bay Foundation. Excess nitrogen in the bay contributes to algae blooms and dead zones.  Significant improvements in the bay's water quality have been seen since nutrients including nitrogen have been reduced in the rivers and streams flowing into the bay.
Read More:  Air Quality Study Over Chesapeake Bay at Hart Miller Island
=================================================================================

=================================================================================
UMBC Atmospheric Scientists Use New Instrumentation
To Study Cloud and Aerosols in Exploratory NASA Aircraft Campaigns
Aerosol-cloud interaction continues to puzzle climate scientists. It is among the most significant contributors to our climate but least understood. Aerosol-cloud processes are poorly represented in climate models and measurement requires high accuracy, narrow resolution, and cooperation between different instruments.
Several studies converge on the idea that a multi-angle imaging polarimeter, with high accuracy and narrow spatial and angular resolution, is the strongest candidate to sample cloud and aerosol properties at the level required for climate study. The Hyper-Angular Rainbow Polarimeter (HARP) is a wide field-of-view camera, designed and developed by J. Vanderlei Martins and the Laboratory for Aerosol and Cloud Optics (LACO) Group at UMBC to fill this role.
Over the past year, AirHARP, the HARP instrument adapted for aircraft, flew on two NASA research campaigns: the Lake Michigan Ozone Study (LMOS) and the Aerosol Characterization from Polarimeter and LIDAR (ACEPOL). The LMOS campaign was a joint NASA-NOAA-EPA effort to explore the connection between lake breezes and high ozone exceedance levels on the eastern coastline of Wisconsin in the summer months. AirHARP took data on many B-200 flights alongside the NASA Langley Research Center (LaRC) GeoTASO instrument, a trace gas experiment that measures ozone pre-cursors, such as NO2, through the entire atmospheric column. Brent McBride, a Ph.D candidate in Martins' group, operated AirHARP on-board the B-200 and led field operations on the ground throughout the campaign, while LACO group members engaged remotely from UMBC. While AirHARP does not have trace gas sensitivity, measurements of convective clouds and low aerosol levels over eastern Wisconsin will be compared to co-incident observations made by AERONET sun photometer sites and the Advanced Baseline Imager (ABI) on the GOES-R geosynchronous satellite.
Read more:   UMBC Atmospheric Scientists Use New Instrumentation
=================================================================================
UMBC Physicists Discover Unexpected Effect of African
Wildfires on Climate
Clouds play a prominent role in moderating Earth's climate, but their role is still poorly understood. Generally, clouds cool the Earth by reflecting incoming sunlight back out into space. Reducing the clouds' reflectivity—with a layer of pollution, for example—reduces the cooling effect. However, new research in Proceedings of the National Academy of Sciences by Zhibo Zhang, associate professor of atmospheric physics at UMBC, two of his students, and collaborators from University of Wyoming, University of Science and Technology of China, Universities Space Research Association, and University of Michigan adds another level of complexity to this model.
Every fall, fires race across central and southern Africa. Many are wildfires; others are intentionally set by humans to clear farmland. They create so much smoke that it's clearly visible from space. Wind sweeps the smoke westward over the Atlantic Ocean, where it rises above the largest semi-permanent gathering of clouds in the world. For years, scientists believed that overall, the smoke diminishes the clouds' cooling effect by absorbing light that the clouds beneath otherwise would reflect. The new study by Zhang and colleagues doesn't dispute the existence of this effect, but introduces a new mechanism that counteracts it by making the clouds more reflective.
Read more:  UMBC Physicists' New Discovery
Daniel Strain, a science writer at Maryland Sea Grant, which is part of the University of Maryland and based in College Park, interviewed Dr. Shuman regarding the Antarctic Peninsula changes and...

Posted: June 17, 2014 11:14 AM