2017 PhD Graduates
Congratulations to a successful defense of PhD research
October 18, 2017 12:06 PM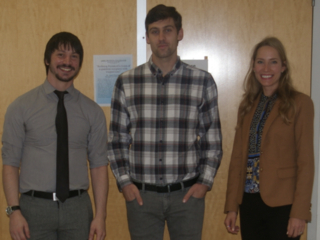 Dan Miller
/Physics

:

Title: Satellite Simulator Studies of the Space of Cloud Heterogeneity on Passive Cloud Remote Sensing Retrievals.



Reed Espinosa
/Physics

:

Title: Comprehensive airborne in situ characterization of atmospheric aerosols: from angular light scattering to particle microphysics.



Alexandra St. Pe´
/Geography & Environmental Systems

:

Title: Adjusting The Sails: Science and Policy Opportunities to Improve Offshore Wind Power Performance



The future: 
Dan and Reed will be joining NASA-GSFC as NPP Fellows and Alex will be off to Austin, TX, to work with E.ON Climate and Renewables.